A photo of Mario on the easel at the front of the lecture
---

Refreshments were ready - compliments of the Free Speech Cafe on campus
---

Lynne Hollander Savio opened the evening
and introduced the winner of the Young Activist Award.
---

Jia Ching Chen was the recipient of the
"Young Activist Award"
He is an Organizer: JustAct, Youth Action for Global Justice,
Founding member: Third Eye Movement, Trainer: East Bay Chapter Ruckus Society
---

Jia Ching Chen speaking
---

Stephen Dunifer spoke about the urgent need for supporting the microradio - see the web site for details: www.freeradio.org
---

Raka Ray, UC Asst. Prof. of Sociology
introduced the speakers
---

Barbara Ehrenreich, left and Arlie Hochchild, right
Raka Ray in center
The evening was a "panel" format with Ms. Ray giving questions
---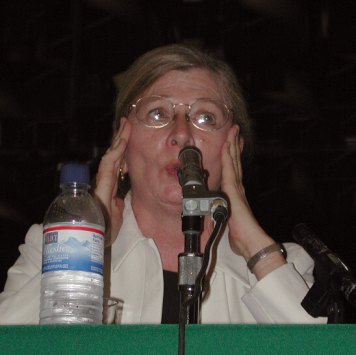 Barbara Ehrenreich explains her research job - working as a house cleaner and scubbing floors on her hands and knees!
---
---

Arlie Hochschild listens to comments
---

Anita Medal takes photos from the audience
---
Page Two of more photos here